Limited time! Organic rose & lavender water SALE! (4oz each)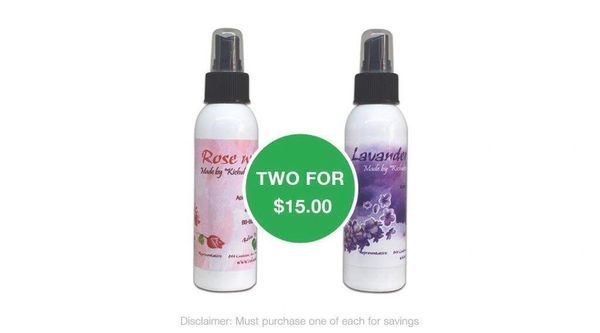 Limited time! Organic rose & lavender water SALE! (4oz each)
All natural organic Bulgarian Rose Water & Lavender Water
Rose Water
can help reduce the redness of irritated skin, get rid of acne, helps to maintain the skin's PH balance, helps to hydrate the skin, helps to aid healing scars, cuts, wounds, regenerate skin tissues, dermatitis and eczema. It is a great cleanser and aids in removing oil and dirt accumulated in clogged pores, helps aging skin, wrinkles and fine lines
Mood enhancer, scent on pillow helps to sleep better
Enhance the quality of hair. Helps to rid dandruff, natural conditioner.

For dry & frizzy hair: Mix equal parts rosewater and glycerin, apply on the scalp, massage for 10-15 minutes. Let it stay for another 30 minutes and wash off with shampoo.
Lavender water.
Use to soothe skin, used for redness of skin, eczema, inflammation caused by mosquito bites, acne, helps eradicate dandruff and also prevent scalp infections.
Makes hair shiny, conditions the hair

Use as deodorant
Not evaluated by the fda