We have the Kangen water machine.
PURAIN 22 water 9.5+ pH .... 
Relax Be Healthy, DRINK WATER!
Call us or simply send us a 
message
.
718-815-1483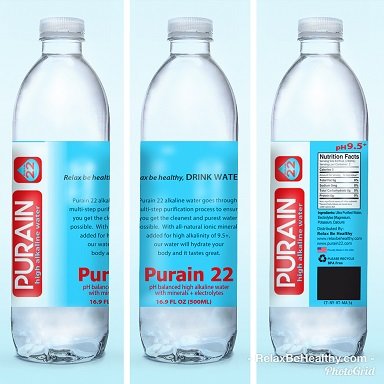 Purain 22 alkaline  water goes through multi-step purification process 

to ensure you get the cleanest and purest water possible. With all-natural 
ionic minerals added for high alkalinity of 9.5+ Purain 22  water will hydrate 
your body and it tastes great. 
Purain 22 is sourced in the United States.
The bottles are composed of 25% plant material and 75% recycled material 
and are 100% recyclable and are BPA-free.
Keeps you hydrated

Refreshing taste

Sparkling clean

Naturally alkaline

Bottled in the US

From natural underground water

Bottle made from 25% plant based material

Bottle made from 75% recycled material 

BPA free

100% recyclable 

Nontoxic bottle 

No phthalate100% recyclable 
WHAT PEOPLE SAY
Helps  your body stay alkaline

Immune system support

Skin health

Supports healthy heart

Eliminates body waste 

Energy boost 

Reduces acid waste in your body 

Helps digestion 

Gives you energy 

improves health